is a city that I don't frequent enough. Every time I visit I find something new to fall in love with. It's a big beautiful city filled with art, culture, and plenty of this to do. I recently made my way to the city of love for a quick weekend getaway. I was only in town for two days but I made my way to some of the coolest spots around town.
EAT
I had brunch at two excellent locations. First, the Farmicia. Not only are the food and drinks good, this local favorite is located not far from the fashion district, which makes it the perfect brunch spot if you want walk off that meal and do a little shopping. I had the Mexican Omelet and washed it down with a Pimm's cup.
The next brunch location we visited was my absolute favorite Bud and Marylin's . Everything my girlfriends and I tried from their menu was absolutely amazing. I ordered the Nashville Hot Chicken Biscuit Sandwich, and we all tried the Froze Slush…. amazing. As a table we also shared the Crunchy Almond French Toast (pictured below) and it was incredible! I will definitely be frequenting this spot every time I visit Philly.
Century 21 - I was introduced to this store at my first trip to New York, now when I am in a city with one I always try to check it out. Century 21 specializes in discounted trendy apparel, shoes & accessories. The Philadelphia store has an extensive collection of vintage bags that was pretty in impressive.
JOAN SHEPP - This it a true gem of a store. Joan Shepp is luxury street style at its finest. This self proclaimed art meets fashion boutique is a go to spot for the fashion forward luxury lovers. Carrying brands such as Off White, ETRO, Moschino, Golden Goose, Rick Owens, Stella Mccartney, and the list goes on and on. This is the place to find statement pieces you won't see anyone else in.
You'll want to visit this store not only to be in the know, but to take in all the decor that is truly a fashion gallery.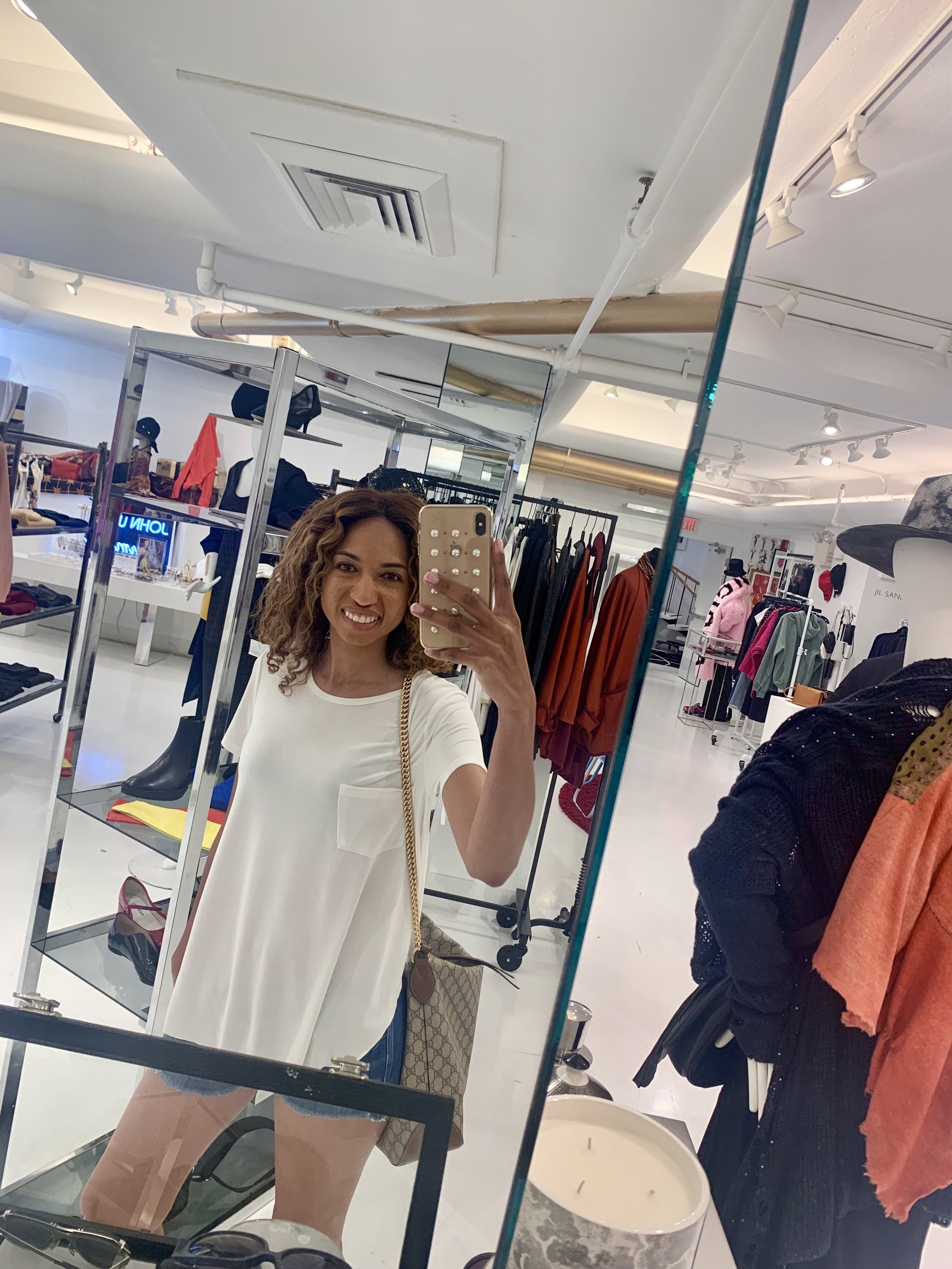 "The store is home to a beautifully curated selection of the most creative European, Japanese, and hard-to-find designers." - Joan Shepp
BOYDS - This family owned high end department store has been a Philadelphia staple for over 80 years. Conveniently located directly across the street form its luxury contemporary Joan Shepp, Boyds offers a more refined shopping experience. The department store is 3 levels, offering men's and women's clothing and apparel.
I absolutely loved how timeless the store was, while still carrying the most current and on trend designer pieces. This is a great place to find your wardrobe staples and investment to elevate your wardrobe.
I left Boyd's with the lace low top Chloe sneakers pictured below. They will be perfect for spring and summer of course, but I also can't wait to have some fun and pair them with tights and socks in fall and winter for street chic look.
Made in America is a an annual music festival held in Philadelphia on Labor Day weekend This was my first time going and I had a great time. Of course my favorite part of festing is the food, and Cousin's Maine Lobster Food truck stole the show.
I made it to the concerts on Saturday and Sunday to see Cardi B, Lizzo Travis Scott, and so many more. I am not much of a festival person but I did enjoy myself during Made in America. Because this festival is in the heart of the city, it's great option for people who want to explore Philly and hear some great music too.
Unit next time Philly —
Ciao,
Candace